The Art of Process and Progress: C Street and Arts Unite Us
1021
1021 people viewed this event.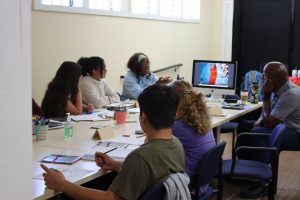 Many young people do not feel heard in their day-to-day life. Youth in Arts' Mentor Artists support students so they can share their voice and engage with the world, and make change through their artwork. We believe that students develop creativity, confidence and compassion through the arts when they are able to work together, share ideas, express themselves, make choices, and take risks.
It's in the creative PROCESS that students are given the space and medium to express their opinions. It's in the ongoing PROCESS of work for Youth in Arts that we continue to address issues of accessibility, inclusion and social justice with arts education.
The Art of Process and Progress: C Street and Arts Unite Us
September 17–November 19, 2021
Gallery Hours: 1:00–4:00pm
YIA Gallery
917 C Street
San Rafael, CA 94901
Donate here to support the San Rafael Social Justice Community Art Project