REGENERATION


San Rafael Social Justice Art Project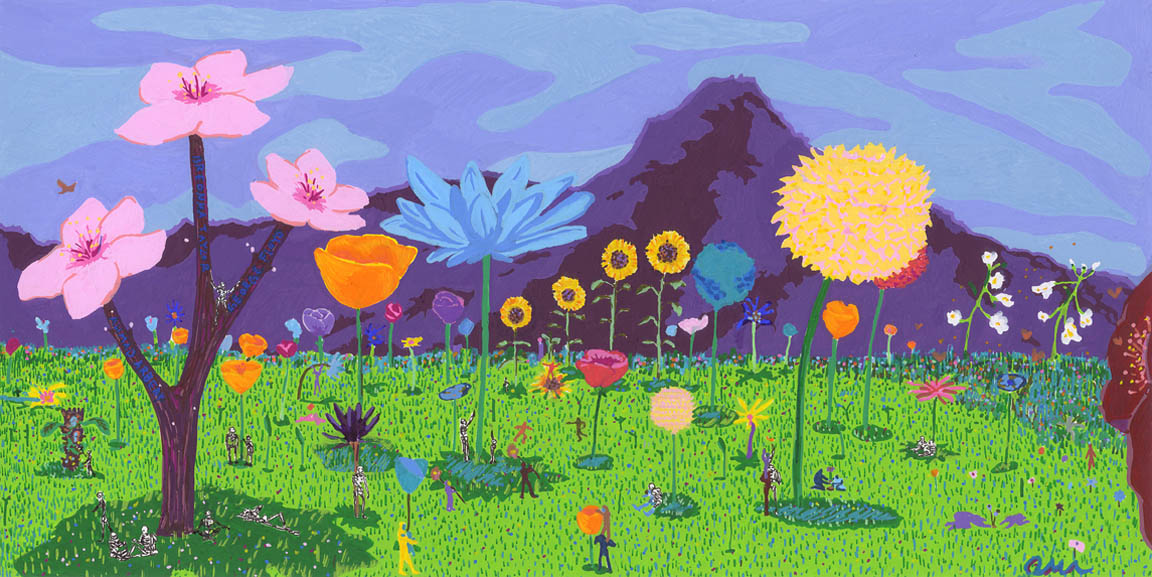 Click for Artist Statement
Owen Martinez-Alejandre Sonoma State University, Class of 2024
REGENERATION
My idea for this mural was to capture an envision of a future in casual tranquility, where the only possible mark of temper lies within one's actions, and not their figure. Synonymous throughout everyone is a common feature! A structure of bones that supports what really matters— one's character and their adherence to live. I wanted to embody this holy staple with something symbolic and pure, like a flower. It's ability to uphold against the wind and raging elements in an engrossing, unstable field. But still retaining its fragile existence and persistence to bloom. Glowing in its enchanting colors, these delicate blossoms enrich the soil and root their next of kin to mend the past and populate a better future. The towering plants in my piece provide comfort to the local community. The shade acts as a natural filter from the sun, a visionary element we need to help us see and understand the world around us. But not everything stands as it is, truly. There is always more and first impressions are just introductions. The skeleton figures are just a reminder to the viewers that, often we forget that everyone is the same internally. We are living, and we should strive to live harmoniously with nature, and not survive against deliberate chaos.
Relating this project to Social Justice was difficult. Not just in the execution, but rather the amount of ideas I had to scratch for lack of space! There were elements I just couldn't include without compromising the original image I settled for [Fluorescence, Regrowth, and Rejuvenation are rebranded from these elements…(Liberty, Freedom, Justice)]. My definition for Justice stems away from the traditional ability to balance one's action with an equal and/or opposite action. I perceive justice as the ability to improve the principle of a deserving fate, without the direct consequence being the denial of redemption. Regeneration (in this context) means empowering a failing body, and improving on what's needed. The first tree blossom has three distinct names marked under their respective flowers. Ahmad Arbery, Breonna Taylor, and George Floyd, who are just some of the shining staples that trajected social justice movements to address the social issues of racial injustice, and to have progress into developing solutions. These unfortunate tragedies have paved hope and reinforced security to an ever aware community to better their actions and beliefs, and to reduce the harm taught by the misguided generations. That is my message to the community.
---
The group formed to address violent community action in Summer of 2020 in response to a chalk mural honoring Breonna Taylor's life and Black Lives Matter at the intersection of Las Gallinas and Freitas Parkway. The current site of the public art piece is directly across the street from the original location of this altercation.
A group of Terra Linda concerned citizens approached the City of San Rafael demanding response and action. Due to a strict public art ordinance, the City decided to convene community members to develop a public response and commitment to equity and change. Youth in Arts stepped in as the lead community-based organization to help bring a responsive art piece to life. Through a year of conversation and investigation, the group developed a call for artists and subsequent mentorship program for youth to create a public art piece to send to the city council. It was presented by youth and approved in August 2021 by the San Rafael City Council.
The group of 10 youth artists were also majority BIPOC; including 3 Terra Linda High School students. They were mentored by Orin Carpenter, a Mentor Artist with Youth in Arts as well as a well-known Marin-based artist and educator. Orin is an artist of color and his work often explores themes of social justice and racism. His involvement in the creation of the work was pivotal. Progress for equity and social justice is only possible if we engage our youth as leaders; 'Regeneration' is a community commitment to our youth that their voices and futures matter in Marin County.
SUPPORTED BY GENEROUS DONATIONS FROM:
$10,000+
City of San Rafael
County of Marin
Marin Cultural Association
$5,000+
San Francisco Foundation
$1,000+
Safeway Foundation
$500+
Terra Linda Neighborhood Association
Terra Linda Rotary
Shirley Fischer
Thank you to all our individual donors under $500
Learning materials, and study guides for students
will be available soon.
EMERGING YOUTH ARTISTS FROM YOUTH IN ARTS:
Owen Martinez-Alejandre, Lead Emerging Artist Sonoma State University
Amber Easterby, Terra Linda High School
Anaya Ryan, San Marin High School
En-Ya Zhan, Terra Linda High School
Kyndall Carpenter, Marin Catholic High School
Miya Kotaka, Archie Williams High School
Natalie Wong, Balboa High School
Natasha Hirschfield, Marin School of the Arts
Valarie Baltazar, Terra Linda High School
Anonymous, Novato High School
SAN RAFAEL SOCIAL JUSTICE COMMUNITY GROUP MEMBERS:
Lorenzo Jones, Facilitator
Damien Oyobio, Project Manager
Orin Carpenter, Youth in Arts Mentor Artist
Keala Wong, Architect
Community Members:
Alyssa Martinez
Ann Dickson
Merl Saunders
Laura Schepps
Kristyn Merrit
Phoenicia Thomas
Jeannette Livingston
Lynn Robinson
Joycelyn Calvin
Youth in Arts:
Kristen Jacobson
Kelsey Rieger
Morgan Schauffler
City of San Rafael:
Cristine Alilovich
Thomas Wong
Stephen Acker
SPECIAL THANKS:
Lorenzo Jones Consulting
Ghilotti Bros., Inc.
Zappetini Inc.
City of San Rafael Councilmembers
Dustin Destruel
Davis Sign Co.