Mission
Youth in Arts builds visual and performing arts skills through innovative and in-depth programs that foster confidence, compassion and resilience in students of all abilities. We develop capacity among educators and teaching artists, advocate for equitable access to arts education and offer opportunities for youth to share their creative voices.
Vision
Creativity, Confidence and Compassion Through Arts Learning.
Our vision is that youth of every background and ability have the creative skills, compassion, confidence and resilience to share their voices and achieve their goals.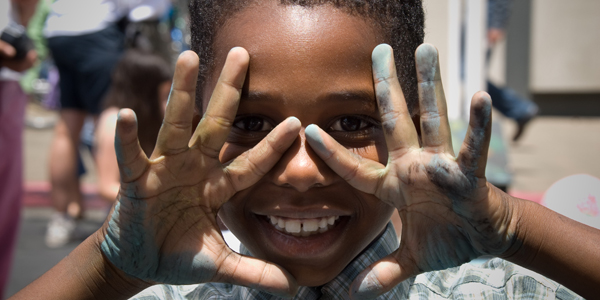 Values
We believe in INCLUSION, that differences are beautiful, and that students of all abilities and backgrounds deserve an education in the arts.
We believe in CELEBRATING young people as artists, knowing one impact of the arts is bringing joy to human lives.
We believe in EMPOWERING youth to share their stories and express their beliefs freely and effectively through music, dance, visual arts, theater and new media.
We believe in ARTISTS of all ages, endorsing a mentorship approach to arts education that connects students with professional working artists, skilled in their art forms and effective in their teaching.
History
Youth in Arts was founded in 1970 by local arts advocates dismayed by diminishing resources available for arts education in California schools. In the decades since, our arts programs have served over a million students in their classrooms throughout the North San Francisco Bay Area. Our students have ranged in age from preschool to College of Marin. Youth in Arts became an affiliate of VSA arts (formerly Very Special Arts) in 1981 and we remain the only consistent provider of arts for special education students in Marin. Youth in Arts founded the Italian Street Painting Festival in San Rafael in 1994 and was the sole producer of the Festival for 16 years. The Festival was suspended in 2011 for financial reasons and has since evolved into Italian Street Painting Marin, a separate organization. Since 2011, we have featured an art gallery in downtown San Rafael's Cultural Arts District dedicated to celebrating youth artists. Click here for our board history.
Youth in Arts is an Arts Equity Champion and proud member of Teaching Artist Guild and the Downtown San Rafael Arts District.
More Information
Youth in Arts 501(c)3 tax id is: 94-2178597
Youth in Arts on Guidestar
Youth in Arts on GreatNonProfits