Painting is just another way of keeping a diary.
~Pablo Picasso
Many of the young artists in Sausalito Marin City are exploring color mixing.
Color is powerful!
Color is exciting!
Color can affect mood and connect a person to a moment in time.
Some artists are working with mixing black and white to make grey. What in the world is grey? What artists have been inspired by grey?



Other artists are mixing the primary colors to make secondary colors.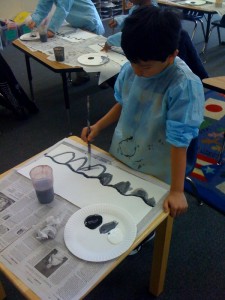 And the middle school artists are making "mandala pizzas" using color!