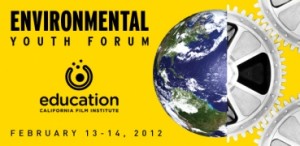 The California Film Institute Education program's Fourth Annual – Environmental Youth Forum will be on February 13th and 14th this year at CFI's Christopher B. Smith Rafael Film Center , 1118 Fourth St. in San Rafael.
This year the EYF is divided into two parts. Monday, February 13th is for grades 6-12 and Valentine's Day- Tuesday, February 14th is for grades 2-5.
On the 13th we will present 12 films to choose from, playing on all three of the Rafael Film Center screens, plus Q&A's with invited speakers, and tabling with local environmental groups. The day will begin at 8:15am and end at 2:45 pm.
On the 14th we will feature the international feature documentary hit Turtle: The Incredible Odyssey, narrated by Miranda Richardson. The stunningly photographed Turtle follows a loggerhead turtle's journey from a hatchling to a 25 year-old adult. The day will begin at 9:00 am and be finished at 11:45.
The program is Free to school groups.
Find out more details.