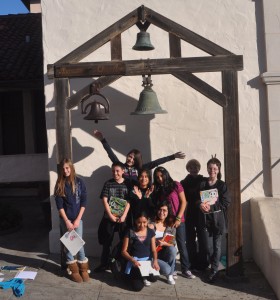 Part of the mural team poses in front of the historic Mission bells. Students have decided that the current San Rafael Mission steeples will be depicted in the mural. For more information about the history of the Mission go to the Marin History Museum.

At the Boyd Gate House, home of the Marin History Museum, students pulled out their art journals, in which they sketched and took notes of their discoveries. Students were particularly drawn to the Marin at War! exhibition, in which there were various service uniforms on display. Louise Arner Boyd was an arctic explorer and photographer from San Rafael, who will also be depicted in the historic mural by the students.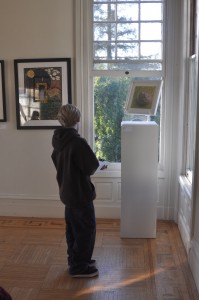 Next students visited the Falkirk Cultural Center, a historical 1888 San Rafael landmark which now presents contemporary art exhibitions. Students found themselves inspired by the prints on display in the galleries and enjoyed walking around the beautiful grounds, filled with sculptures and gardens.
At the corner of 4th Street and C streets students were given photographs or drawings of historical landmarks that still exist or used to exist on each of the four corners. They used visual clues to  figure out which historical image matched each corner.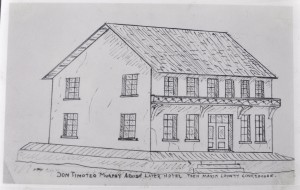 Arguably the most historical piece of real estate in downtown sits at the northwest corner of 4th and C streets, where Timothy Murphy lived, and which was used later as the courthouse.  Murphy, who was named San Rafael's first informal mayor, won a large land grant from the Mexican Government in 1844 and built his adobe house in downtown. He was a boisterous Irishman who reportedly spoke Miwok and Spanish , and who loved to have parties. San Rafael Day was born when church goers would go to Sunday mass at the Mission and walk over to Murphy's house for afternoon drinks, food, and games. The Bank of Italy building now sits in the same location, built in the late 1920s. For more information check out the Early San Rafael History book on Google Books.

The tour ended with us back at Youth in Arts, 917 C Street, where the final mural will be installed. The building was used as a livery and purchased by Neil MacPhail in the 1870s. Horses and carriages, including the famous Tally-ho were rented out to customers. When cars became the prominent mode of transportation the MacPhails ventured into the fuel business and later into appliances. The building is still owned by the MacPhail family and evidence of the passage of time fills the building. Beautiful sturdy wood beams hold up the warehouse in back,  a manual  horse elevator was used to bring the horses to the second floor stables, and elegant antique appliances adorn the attic.