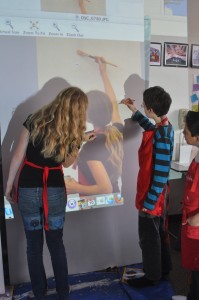 The young and talented artists have been working on this project with Mentor Artist, Brooke Toczylowski, since November. For more posts about this project click HERE. 
One of the ways the students transferred images onto the panels was to project their drawings or photos and then trace the shapes.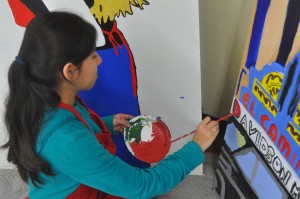 To the left Sonia and Declan transfer a photo of Sonia painting. This part of the mural  represents the students' own history and connection to the present and future of San Rafael. It was inspired by Diego Rivera's Mural at the San Francisco Art Institute, "Making a Fresco."

Local Master Artist Kalen Meyer came to Youth in Arts to speak with the students and share her artistic process. She showed the evolution of how her painting has changed over the years, including many images from her series, "36 Views of Mt. Tamalpais," which is the local mountain included in the mural.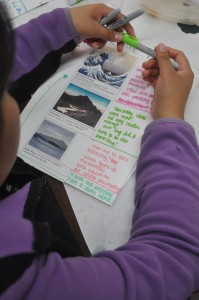 Students had prepared questions the day before after looking at images by Master Artists  Tom Killion and Katsushika Hokusai (who is an inspiration for both Killion and Meyer.)
The young artists asked,
Do you use calm colors on purpose?
Do you ever paint a view or a place from that place, or do you always work from photographs?
How could we work on the background color of our mural?
After looking at Kalen's work and going back to our mural the students found themselves inspired by her paint strokes and some of her techniques directly came out in the style of the mural.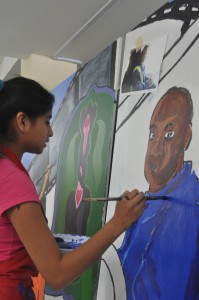 What have you learned about yourself?
On Friday the group reflected on their experiences as a team and as professional muralists:
"I learned that working as a team is better and it's faster and when you work alone it looks all the same but when you work with lots of people it looks [different], like the [paint strokes] are different." – Rosvin 
"When I'm at home when I'm painting I'm alone in my room, but this so much more fun because you know you can be painting and then yell across the room and be like, 'hey!'" – Sonia
"Something that doing this project has brought to me is…I made lots of new friends like Stefania and Jessica, and it made me also much closer to my good friends." – Declan 
"What I learned is that we had a community here. Like when we were [painting] Charles it was Natalie and then Stefania joined in and then Joselyn and me, too. We all did it together." – Jessica 
STAY TUNED! In June the mural will be installed on the Youth in Arts building. A gallery exhibit and community celebration will illustrate the mural process and celebrate the young artists' hard work. 
THANK YOU to all parents, artists, and volunteers that made this project possible.
And THANK YOU to Whole Foods, who provided much of the snacks and lunches for the kids during the week.