With Mentor Artist Angela Baker, Rancho's Fifth Graders explored 3 different media: painting, printmaking and clay. The essential question running through the six week residency was: "What are some sources of inspiration for making art?"


In an effort to generate ideas and inspiration Baker showed students an image at the beginning of each project and did a short Visual Thinking Strategies session. Images shown were Jasper Johns number paintings, Pop Art–especially the work of Andy Warhol–and mythological creatures for a clay sculpture of an invented animal.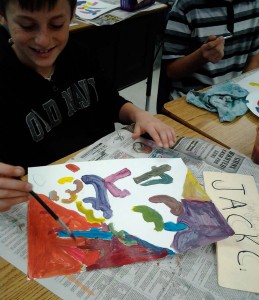 During further discussions, students shared quite a few ideas they had about possible sources of inspiration such as: nature, people, colors, the environment and looking at each other's work. Some students particularly enjoyed doing "gallery walks" to share work at the end of class.