The 6th grade students at Davidson Middle School have been learning about Ancient Cultures in their Social Studies classes, and through our Passport event, their curriculum came to life! Throughout the day, every 6th grade Social Studies class took turns participating in a one hour long immersion into art forms of Ancient Cultures, engaging in both Visual and Performing Arts Activities.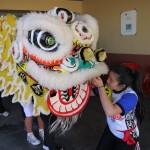 Chinese Lion Dancers introduced students to the gongs, symbols, drums and dance movements of Ancient China; scaring off evil spirits with loud music and movements. Participants were given the opportunity to play the instruments and even get inside the Lion to dance!

YIA Mentor Artist Michelle Levy gave students a glimpse into the music of Ancient Mesopotamia and the Roman Empire, including the rebab, vielle, violin, saz (Turkey), Tambura (Macedonia), drums including dumbek, frame drum, riqq and the zurna. Students learned to count in different time signatures and the significance of various instruments in ancient time.

Students also participated in various styles of classical Persian dances with Shahrzad Khorsandi. Moving to the beats of the Daf (a traditional Persian frame drum), dancers moved in unison, learning social dance steps, hand movements and even a new way to snap their fingers!
For Visual Arts, students also explored two different activities.
YIA Mentor Artist Gabrielle Gamboa presented the ancient Greek art of Sgraffito – a technique traditionally used to adorn clay vessels, produced by applying layers of plaster tinted in contrasting colors, and then in either case scratching so as to produce an outline drawing. Students explored this by etching designs in Magic Paper.

In honor of the ancient Japanese art form of Chinese Brush Painting, YIA Mentor Artist Julia James taught students the various techniques of using Japanese brushes and traditional mulberry paper to create images of Mount Tam.
Every sixth grade student had the opportunity to participate in each activity, and most of them did exactly that! Students flowed seamlessly from one activity to the next, absorbing the information and partaking in the festivities. It was indeed a wonderful Passport to explore our artistic world!
There are no photos with those IDs or post 6484 does not have any attached images!