 This year, I worked for 20 weeks with Linda Breakstone and Stacy Hall's class, with students ages 5-10 with a wide range of learning, cognitive and physical disabilities.  My strategy was to try to engage each and every student, focusing on routine and repetition.  I'd always begin my class with the same opening song, go through a series of activity songs, and end the class with our "goodbye" song.
Music time with the kids consisted of interactive songs,  identifying the sounds, and physical play (i.e.. Row your boat, Hokey Pokey, London Bridge).  We use icons for non-verbal students so that they could make choices in the songs and activities. For example, for "The Wheels on the Bus", we had photos of  windshield wipers, a baby, windows, etc.   When singing the song, students had the option to participate by holding up their icon.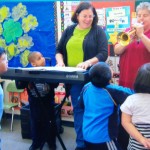 Often, I'd bring in rhythm instruments.   The highlight of this 20-week project was that my sister, Terry, came to share her trumpet on two separate occasions.   Kids LOVED blowing the horn, pressing the valves and marching (those who could) to "The Saints Go Marching In"
The teachers seemed to really enjoy music time, noticing that it was the one time of week when all the kids, teachers and aides get together with no interruptions. It was a fun session, I look forward to having the opportunity to come back next fall!
Nina Pasquale
YIA Mentor Artist, Olive School MCOE Special Day Class 2012-13
There are no photos with those IDs or post 6589 does not have any attached images!