 by Mentor Artist Sophie Cooper
Working with 9 students in a special day class at San Jose Middle School, students were guided through using multiple visual arts mediums to explore the themes of the face and identity. Our artistic journey culminated with the creation of colorful, long-lasting, hardened-fabric masks. Each new artistic medium was an opportunity for students to engage in a different sensory experience of art.  While some students may not be particularly interested in painting, they may find they love working with clay. My primary focus was to meet the students where they are at and encourage their own creativity to find expression.
We began by drawing self-portraits. Students were given self-standing mirrors and invited to draw their own faces with pencils and oil pastels. Prompts were given to encourage the students to study their own faces, identifying their various features as they drew them. One student, who often had a difficult time engaging in desk activities, lit up when seeing herself in the mirror – suddenly becoming an active participant.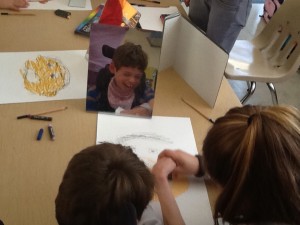 Our next step was to assemble collage portraits using cutouts from magazines in the shape of facial features. This very simple activity introduced the students to a new art form while re-enforcing the identification of the facial features covered in the previous lesson.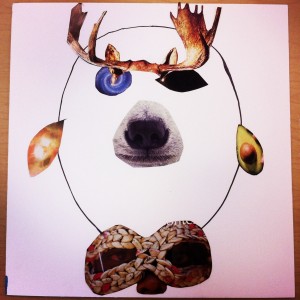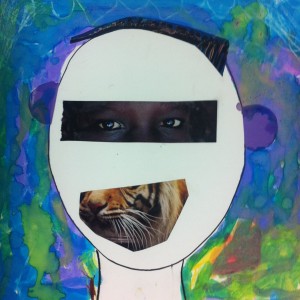 We were then ready to explore the face in the third dimension and sculpted portraits out of clay. Students were invited to consider not only the 2-dimensional placement of the eyes, nose and mouth, but also what parts of the face are indented and what parts protrude. Many of the students loved the sensation of working the  clay between their hands and the session was filled with giggles and laughter!!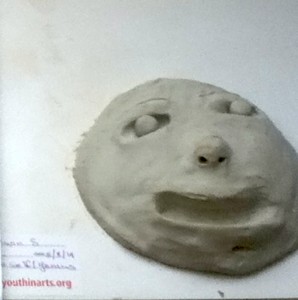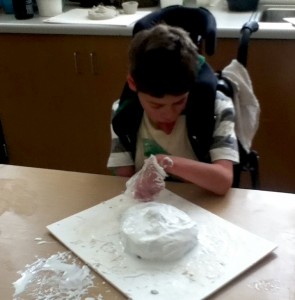 In the following session, we cast fabric masks using the ceramic sculptures as molds. The paverpol medium we used introduced students to yet another texture that many of them enjoyed getting their hands into.
The final step was to paint and decorate the masks, inspired by examples of ritual and performance masks from various parts of the world including Chinese Opera Masks and those from the Rasta people of Ethiopia and the Huichol tribe in Mexico. These examples encouraged the students' creativity in bringing many colors and designs into their masks.


The beauty of art is that there is never a wrong way of doing it. The students at the special day class at San Jose Middle School reminded me of this each and every day. In meeting them where they truly are and listening to how their creativity wants to move, I found many opportunities to move beyond my own previously conceived ideas about how art happens. I will miss them and am very grateful for all we created together this Spring!