Families from Harding Elementary School in El Cerrito joined Youth in Arts Mentor Artists in traveling the world last week!  Upon arrival, our travelers received a passport to carry with them as they visited Mexico, Africa, Hawaii, and created a mural.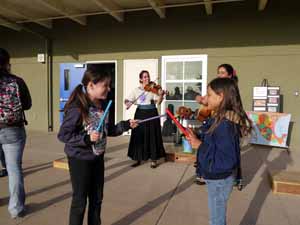 Outside the multipurpose room, we danced, played and sang traditional songs from various regions of Mexico with YIA Mentor Artists Nydia Gonzalez and Dolores Garcia.  Travelers learned various rhythms to play on panderos (tamborines), quijadas (donkey jaws) and wooden frogs.  Dancers tapped these rhythms out with their feet on tarimas (wooden platforms) and imitated various animals including colorful guacamayas (macaws), ducks, and vultures.  We also learned about many of the traditional stringed instruments from Mexico including the vihuela, jarana huasteca, jarana jarocha, and guitarra de son.
Inspired by African Adinkra symbols and their meanings, YIA Mentor Artist Beth Krebs lea
d families in creating original prints that represent their family's beliefs and values. Travelers also designed their own original symbols. Travelers began by quickly sketching three ideas for stamp designs. Next, they chose their favorite, drew it again on sticky-backed foam. Travelers then considered positive and negative space as they cut out their shapes, and stuck it to squares of cardboard. They used brayers to roll out their ink and spread it on their plates before then stamping their shapes on to a community wall hanging.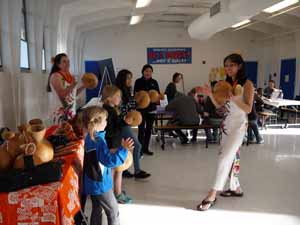 We also sailed to the Hawaiian islands with YIA Mentor Artist Shawna Alapa'i, swaying hips to traditional hula dances, chanting and playing instruments.  Boys wore traditional kukui nut leis and everyone learned to play the ipu (gourd percussion instrument) and learn about ancient beliefs and stories of the Hawaiian people.  Travelers learned traditional chants and hand gestures while dancing to the music of the ukelele.



Young artists joined YIA Mentor Artist Julia James in creating a beautiful mural of birds from around the world flying together.  Students looked at birds from around the world and created paper birds using oil pastels, markers and water colors.  All of the birds were added to the collaborative mural to represent the beautiful diversity of Harding Elementary.
Thank you to the Thomas J Long Foundation and the Green Foundation for their continued support and making this program possible.
There are no photos with those IDs or post 11371 does not have any attached images!