 Written by YIA Mentor Artist Hannah Dworkin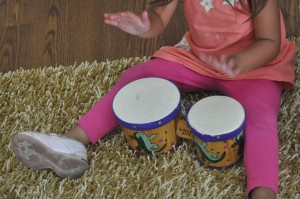 Every year is a joy working with Jessica Leaper's language delayed preschool class at Marindale in San Rafael. This year was especially engaging because she invited several
students from Santa Margarita, a near by mainstream preschool, to join us weekly.  She and the teachers from Santa Margarita Preschool have been looking for a way to integrate these two schools, and this Arts Unites Us residency was the first concrete step they were able to take toward this goal.
The presence of the Santa Margarita students greatly motivated Jessica's students to move beyond their comfort zone and engage in activities that were new to them. We noticed that they were more fully engaged in the music and the movement and were more apt to accept new songs and dances into their repertoire.
Jessica's students also made great strides in their musicianship, more than they had in the past.  They were able to follow melodies in accuracy I had not seen before, and they were even able to read short rhythmic phrases by the end of the residency!
Now that Jessica's students have fiends they feel comfortable with at Santa Margarita, they are traveling to that school site each week to participate in their music program as well.