by YIA Mentor Artist Nydia Algazzali Gonzalez
This year my participation in the Arts Unite Us program was special, as it was the first year in nine years that I am no longer the Program Director.  This year, I had the absolute pleasure of exploring music and movement with four amazing teachers, their supportive staff and wonderful students! Through Arts Unite Us, I led "VSA Arts Connect All" music residencies at both Venetia Valley and Vallecito Elementary schools, as well as teaching percussion and dance at Terra Linda High School.
At Venetia Valley, students from Kate Mansour and Chelsea Smith's Special Day Classes engaged in a variety of song games and movement activities.  Students learned songs that encouraged practice in motor skills, collaboration, making choices, vocalization, working with manipulatives and listening. In Ms. Smith's class, we did lots of fun movement songs like "Down in the Valley", focusing on gross motor movements and coordination; "Little Johnny Brown", developing fine motor with as we folded our little "comforts"; and "La Guacamaya", focusing on rhythm and practicing spreading our wings as we flew around the room.
We also had a lot of fun with our egg shakers, looking for new ways to play them and using vocabulary like shake, roll, tap, pat, etc.  Ms. Mansour's students also utilized their digital devices to make song and movement choices.  We played a rhythm we called "pizza-pie" to accompany the traditional son jarocho, La Bamba.
Students in Ms. Jansen's class at Vallecito Elementary enjoyed the variety of songs, instruments and manipulatives that we used during music time.  With the song "Mary Wore her Red Dress", we would sing about something special that each of us was wearing.  Students loved acting like fishes swimming through the "Deep Blue Sea", as we played the water drum and they took turns swimming under the blue water scarf.  One of our favorites in this class was when I would bring out the high-pitched jarana to play La Bamba – smiles all around!
At Terra Linda High School, sessions with Ms. Hughes's class focused on various Latin Dance genres including cumbia, bachata and reggaetón. Students learned traditional movements, steps and choreography. We developed our collaboration skills as we danced with partners and in groups and each student contributed original movements that were worked into the dances. We also had a blast playing percussion instruments and jamming at the end of class.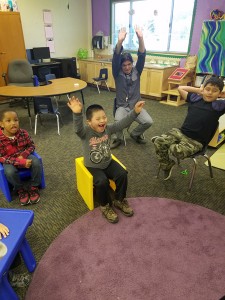 Thank you to the YIA staff and to Suzanne Joyal for continuing the work and nurturing the program to which I dedicated so many years.
VSA Arts Connect All residencies at Venetia Valley and Vallecito Elementary schools were provided in 2016 under a contract with the John F. Kennedy Center for the Performing Arts.
And many thanks to the Buck Family Fund of the Marin Community Foundation for their continued support of Arts Unite Us programs.