Capoeira Mentor Artist Daniel Mattar and his International Capoeira Angola Foundation (ICAF) troupe have been very busy putting on assemblies for us!

Their first back-to-back performances were last week at Marin Country Day School in Corte Madera.  Daniel brought five Capoeira artists to perform with him.  They played music on their Berimbaus (similar to guitars, made of a gourd and one string) and Pandeiros (tambourines) while demonstrating the beautiful art of Capoeira Angola for two large groups of K-4th grade students.  After their demonstration, they brought several kids up on stage to practice Capoeira while doing call and response songs with the audience in Portuguese.  They were lively and fun performances.




Educator Alina said, "The performers were wonderful!  I loved how they went into the audience as kids were coming in to show them the instruments etc. – nice touch.  I received positive feedback from teachers too!"


Yesterday, they put on two more assemblies at Dance Palace in Point Reyes for a huge group of students from several elementary schools in West Marin.  Daniel brought six Capoeira artists from ICAF and the reviews were outstanding!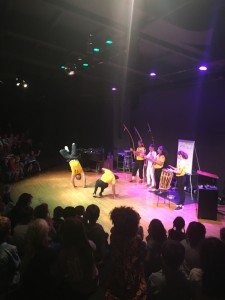 Dance Palace Executive Director Margarita raved, "Daniel and his ICAF troupe were absolutely wonderful! The music was great and the kids just LOVED them! Everyone was singing and dancing. They even got a reluctant teacher up and dancing. What a great recommendation from Youth in Arts!"
Book your assembly today!  Visit our website at youthinarts.org to see all the available options, or call Morgan Schauffler to book (415) 457-4878 x160