Glenwood Elementary School's K–3rd graders hosted The Alphabet Rockers for two fantastic back-to-back assemblies on Wednesday, May 24th.  Kaitlin McGaw, Tommy Sheperd and DJ Juan Amador performed their newest assembly entitled, The Playground Zone: Diversity for the two lively student audiences.  The show focused on inclusion and raising awareness about diversity in the student community.  The Alphabet Rockers used hip-hop music and dance to engage the kids, while talking to them about the importance of self-identity, and being an ally to fellow students.
One of the highlights of the performance was when the students were asked to create handshakes with a partner.  Kaitlin and Tommy demonstrated for the students by examining the back of their own hands and coming up with creative names for their skin color.  Tommy called his, "Carne Asada," and Kaitlin dubbed hers, "Peach Salsa."  They decided that sounded like a delicious taco, so they devised a "Taco Handshake."  They challenged the students to do the same, and name their own skin color after a familiar object or thing.  The resulting handshakes were fantastic, and the students' creativity really shined.
Another great moment, was when The Alphabet Rockers asked the students what they were going to do to change the world.  Tommy walked around with a microphone and got very thoughtful responses from every student in the audience.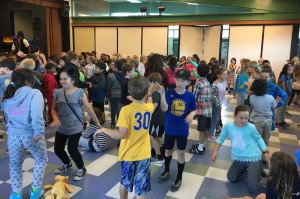 For the finale the Alphabet Rockers had the audience form a giant circle, and invited students and teachers to take turns doing their own unique dance in the center.  What a fun and invigorating morning at Glenwood Elementary!