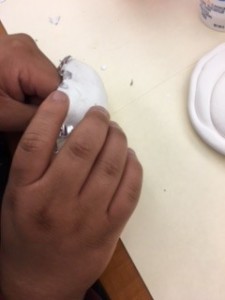 By Mentor Artist Cathy Bowman
Students at the College of Marin have been working with clay, beads, buttons and paper foil to create beautiful mosaics inspired by the work of Iranian artist Monir Shahroudy Farmanfarmaian.  Farmanfarmaian forms 3-dimensional works using pieces of mirror cut into geometric shapes.
Using a Kennedy Center lesson titled "Looking in the Mirror," Mentor Artist Cathy Bowman discussed the use of mosaics in art and showed students a short film about Farmanfarmaian's work. Students in the special day class started with lumps of white Model Magic, a nonsticky, nontoxic clay. They learned how to roll, twist and manipulate the clay, and how it softens the more you work with it. Some artists made abstract forms, while others enthusiastically used thumbs and fingers to form bowls, baskets and other objects. Students were encouraged to consider how they felt about making art and what they wanted to say. If their bowls were "wishing bowls," for example, what were their dreams? The class also talked about how mirrors reflect and how the word "reflection" can refer to a physical image as well as deep contemplation.
One artist spoke about about kindness and joy. Others saw their art as gifts. A woman made a bowl for her father "because he is kind to me;" a man made a tiny basket for his aunt expecting a baby.
Instead of mirrors, artists used silver Origami paper, gold foil and other brightly colored paper that was cut into geometric shapes. Artists also used recycled beads and buttons. They were encouraged to think about making patterns in their work, considering both the negative and positive space. It was interesting to consider how different art feels when a single color and material is used v.s. when multiple colors, textures and shapes are used.



This VSA program is provided in 2017-2018 under a contract with the John F. Kennedy Center for the Performing Arts.