 By Youth in Arts Mentor Artist Jill Hoefgen
This semester in the Canal Alliance University Prep (UP!) advisory groups, we've been exploring media literacy and photography. In addition to learning about how to decode advertisement and identify fake news, the students have been practicing photography skills as a way to create and share media from their own perspective.
In April, I introduced the students to Brandon Stanton's Humans of New York photo project and we discussed community, photography, and human connections. Using some of Stanton's images as a jumping off point, the advisory groups of 7th and 11th graders started their final photography project last week.

As we trekked out of the classrooms and into the sunshine, the students expressed trepidations about what they "should" be photographing. I encouraged them to look for color, textures, shadows, lines, and people. Soon they were leading the way through the neighborhood, visiting shops and finding their own subjects to capture with the camera. They often stopped in pairs or individually to take a shot, and I chatted with each student about their photography as we moved along the street. Many of the students used the time to take many pictures, observe the neighborhood homes and businesses, and to explore the different angles to capture the best image.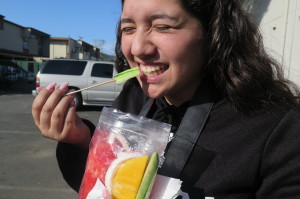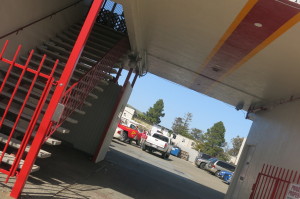 When we returned to the classroom, they were energized and were ready to begin creating their own unique photo books, which should highlight their perspectives of the neighborhood.
~Jill Hoefgen