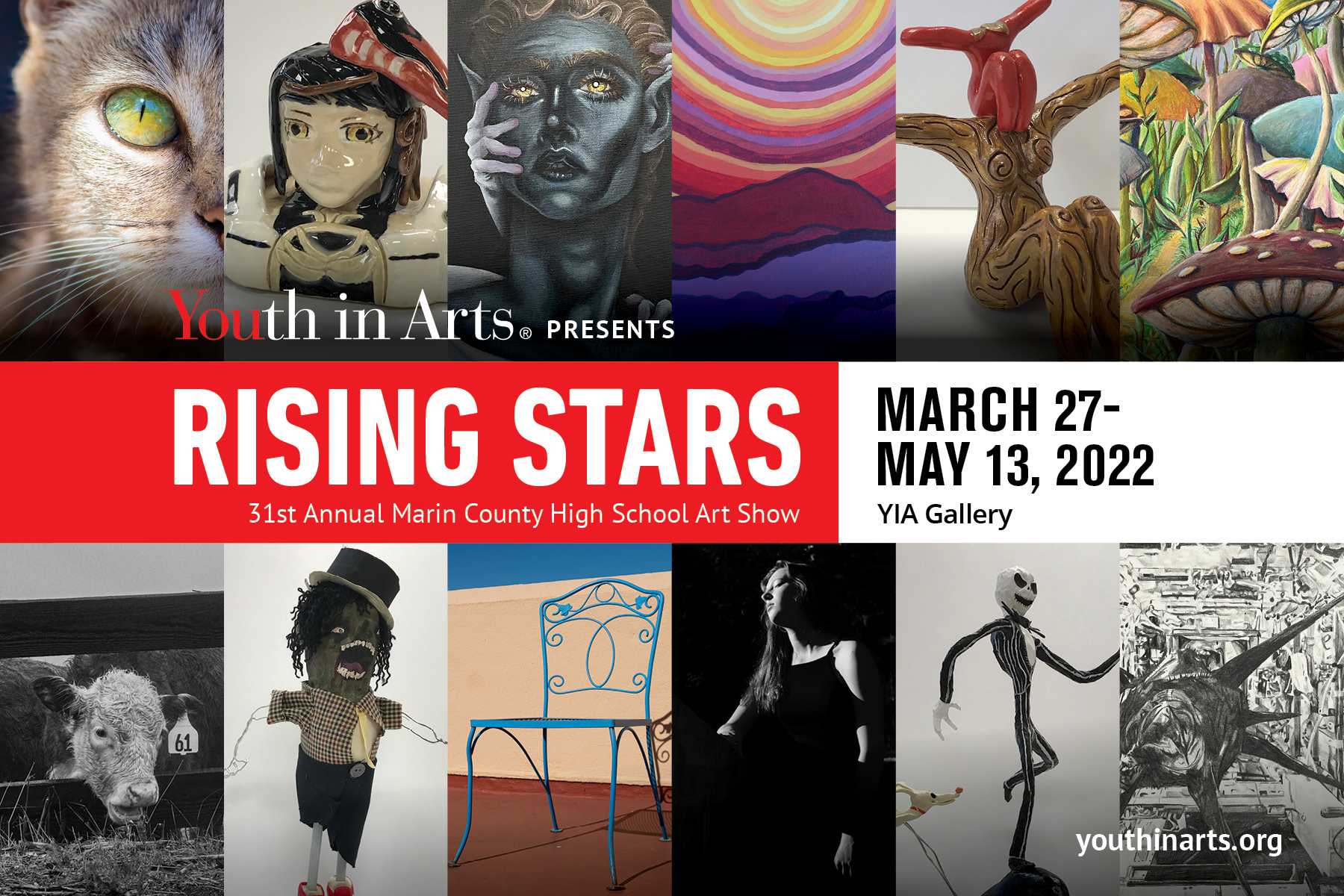 RISING STARS High School Art Show through May 13
1235
1235 people viewed this event.
RISING STARS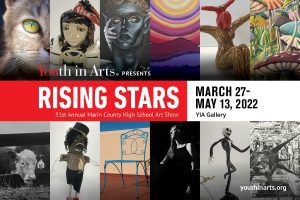 Marin County High School Art Show
YIA Gallery
917 C Street
San Rafael, CA 94901
Gallery Hours: Monday–Friday, 11am–4pm
Youth in Arts is celebrating its 31st annual RISING STARS show featuring the best high school artists from across Marin County. 
The showcase runs March 27 through May 13. It features 130 drawings, paintings, photographs, sculptures, mixed media, and digital artworks from emerging artists. The art is on display at the YIA Gallery at 917 C St. in San Rafael weekdays from 11 am to 4 pm. Admission is free.
Visual art teachers from public, private and alternative high schools nominated their top students for the juried show.  The exhibition was blindly adjudicated by: interdisciplinary artist Sirima Sataman, painter and Associate Professor of Art Lynn Sondag (Dominican University), and photographer Stephen Texeira. Sponsors include College of Marin, Dominican University of California, RileyStreet Art Supply, Rocky Nook Inc, and Sarah Shepard Gallery. 
Participants include The Branson School, Compass Academy, Marin Academy, Marin Catholic High School, Marin School of the Arts, Novato High School, Redwood High School, San Domenico School, San Rafael High School, Tamalpais High School, Tamiscal High School, Terra Linda High School and Tomales High School.
Artist Susan Diglioni founded RISING STARS in 1991, believing that young artists should be recognized for their talents.
This year's winners are as follows:
Best in Show – May Wu, San Domenico
Best Digital/New Media – Pritika Win, The Branson School
Best Drawing – Jackson Stewart, Tamalpais High School
Best Mixed Media – Leah LaBoy, Marin Catholic High School
Best Painting – Ciara Hall, Marin Catholic High School
Best Photograph – Maya Alpert, San Domenico
Best Sculpture – Hailey Groff, Tamalpais High School
Merit Digital/New Media – Nami Takada Wolfus, San Domenico
Merit Drawing, Rosalyn Diaz, Marin School of the Arts
Merit Mixed Media – Kacey Punzalan Douglas, Redwood High School
Merit Painting – Gia Fisher, The Branson School
Merit Photography – Maya Wadhwani, Marin Academy
Merit Sculpture, Owen Swagel, Marin Academy
Honorable Mention Digital/New Media – Patricia DePalma, The Branson School
Honorable Mention Digital/New Media – Lily Wong, Marin Catholic High School
Honorable Mention Digital/New Media – Natalie Nong, Tamalpais High School
Honorable Mention Drawing – Minna Hibbitts, Marin Academy
Honorable Mention Drawing – Georgia Wilson, Marin School of the Arts
Honorable Mention Drawing – Jasmine Wickens, Marin School of the Arts
Honorable Mention Mixed Media – Leo Crane, Terra Linda High School
Honorable Mention Mixed Media – Owen Bourdages, Tamalpais High School
Honorable Mention Painting – Nina Majdoubi, San Rafael High School
Honorable Mention Painting – Makena Mesenburg, Novato High School
Honorable Mention Photography – Mae Hahn, San Rafael High School
Honorable Mention Photography – Julia Shippey, Marin Academy
Honorable Mention Photography – AJ Mayfield, Marin School of the Arts
Honorable Mention Photography – Dessa Needham, Redwood High School
Honorable Mention Sculpture – Mikiko Whitehorn, Tamalpais High School
Honorable Mention Sculpture – Charlie Freiburger, Tamiscal/Redwood High School
Honorable Mention Sculpture – Salem Wahab, Tamalpais High School
Honorable Mention Sculpture – Roxani Oxlaj, Novato High School
Dominican University of CA Prize – Adrian Rivers, San Rafael High School
RileyStreet Prize – Mia Masturzo, Marin Catholic High School
RileyStreet Prize – Carter West, The Branson School
Rocky Nook Prize – Ava Shawn, San Rafael High School
Sarah Shepard Gallery Prize – Costas Foster, Novato High School
Honorable Mention Rocky Nook – Sage Sanderson, The Branson School
Honorable Mention Sarah Shepard Gallery – Kaden McInory, Novato High School