"There are two ways of spreading light: to be the candle or the mirror that reflects it."  – Edith Wharton
On October 26, 2010 a group of Bayside School K students and a group of Bayside School 5th grade students came together as collaborative forces.
The 5th graders have been mentors for the K students, and they have been partnered up.
Today was the first day they were given the opportunity to come together as artists.
Ms. Banks, the K teacher, has introduced the word DISGUISE to her students.
What does it mean to be in disguise?
How does it make you feel to be in disguise?
The 5th grade artists in Mr.Mitchell's class have been working with paper with Ms. Brooke; learning ways to make paper stand and become sculptural. They also just finished creating paper masks in celebration and honor of The Day of the Dead.
So it seemed like the ideal moment for the 5th grade artists to teach the K artists how to make paper masks.
The K artists had just finished work inspired by the African Mud Cloths.
So the students were prepared to use lines and patterns in their work.
Ms. Brooke laid out stations at each table for the partners to engage in their mask-making collaboration.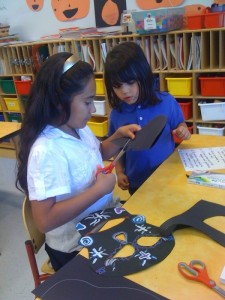 And together the partnerships cut, composed, formed, and layered the masks.
They shared materials, and talked about choices.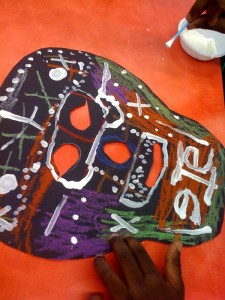 And by the end of class all of the masks looked different, and you could feel the excitement as everyone put on their disguises.
As the class gathered as a group, there was a hum in the classroom as hidden eyes wandered and looked at all of the different ways to create a mask.
Creative minds interacting will inspire and change the way we see and do things.