Take a walk around the Sausalito Marin City School District, and you will be struck by all of the arts integrated learning happening.
Below are insights into three classrooms: a K classroom, a 4th grade classroom, and an 8th grade science class…..
Come take a sneak peek, and learn about what teachers and students are learning.  Each class does have a collaboration with Ms. Brooke, the K-5 arts specialist, but teachers are taking what they are learning and expanding the learning into their own daily teaching practice.
Who am I?
This is a question K artists are asking themselves. Through art making, and working with found materials, students are developing awareness of their bodies.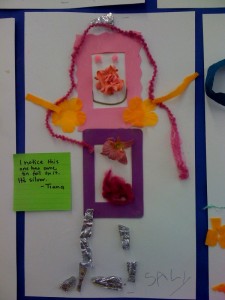 Students took time to reflect on their peers' work:
What do you notice?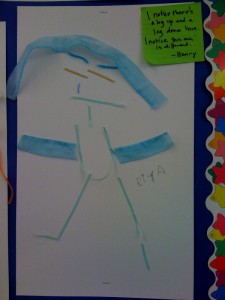 In a 4th grade class, students are learning about identity, symbolism, and metaphor.
Where do I come from?
This is a question these students are thinking about.
Through the use of maps and collage, the classroom teacher encouraged her students to consider mapping out their individual journeys.
How can visual symbols and colors emphasize a story about yourself?
In an 8th grade science class students are thinking about Force and Motion.
This idea leads to the question of:
How do my actions affect the world?
Students are working with collage and images from magazines to visually construct and illustrate ideas around force and motion.