Next Friday, December 10th, the K and 1st grade classes at Bayside school are heading out on an excursion.
They will ride on the Sausalito Ferry out to Alcatraz and back. While they are on the ferry, they will join many other school children to decorate the interior space with art work.
Kindergardeners in Ms. Banks' K class created paper snowflakes for the project with Ms. Ascha.
Before beginning the project, the students looked at snowflakes and thought about how their art could be inspired by the images that were taken under a microscope!
They talked about the structure of snowflakes, and how they are symmetrical and  have patterns.
Recently the students had worked with paper sculpture with Ms. Brooke, so they were familiar with cutting and folding the material.
The students appreciated that each and every snowflake looked different!
And they could imagine how the snowflakes would add to the interior of the ferry.
Beautiful work!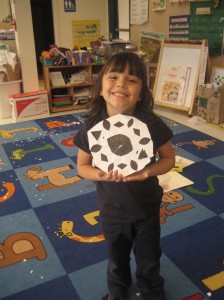 In the reflection, the students, Ms. Banks, and Ms. Ascha talked about the importance of collaboration: working together : to create artwork. Over the next week the K artists will continue to make snowflakes, and mount them on black paper.
It will be exciting for them to see their work on view in a public space for others to see!