Ballet Folklorico at Laurel Dell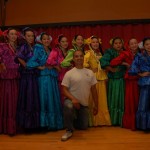 With help of a generous grant from the California Arts Council and the Laurel Dell PTA, the students of Laurel Dell and Hamilton Elementary were treated to a unique opportunity this Spring.
The multi-part program in Ballet Folklorico was inaugurated with an assembly performances by the Ballet Folklorico Netzahualcoyotl at Laurel Dell, and Ensembles Ballet Folklorico at Hamilton. The troupes performed dances from several regions of Mexico including La Danza de Los Viejitos, which is an allegory for respecting your elders, and Las Amarillas, which shows the beautiful movement of birds. Students learned about each dance and joined along in movements and song!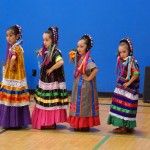 At Laurel Dell School, Maestro Netza chose to teach the students dances from the Son Jarocho because working with each grade level, he was able to help students share and learn about the diversity of Spanish, Mexican and African Rhythms in Mexico. Netza explained how Africans brought to Mexico as slaves contributed to the styles and rhythms of Son Jarocho. The Jarocho genre evolved from a combination of influences: European, Indigenous and African; making it a Mestizo art form.

The students of Laurel Dell shared the stories of their ancestors from all over the Americas, and through the dances of Son Jorocho, were able to learn more about their own family backgrounds. During their time with Maestro Netza, each grade level learned one of these traditional Sones Jarochos:
Kindergarten: Maria Cirila, About a girl who makes Chocolate
1st Grade: La Guacamaya, about the Macaw bird
2nd and 3rd Grades: La Iguana, Mimicking the movements of the Iguana
4th Grade: El Colas, About a popular boy named Nicolas
5th Grade: La Bamba, The traditional version of the popular song.
The teachers at Laurel Dell also received professional development sessions with Mentor Artist Nydia Gonzalez in which they learned the historical and cultural context of the dances; dance steps; and, how to sing and play instruments to accompany the student performers. This enabled teachers to continue practice when the artist was not there, as well as further integrate the content into academic lessons.

At Hamilton School, YIA Mentor Artist Zenon Barron focused his dance program on the Flowers and Fauna of Southern Mexico, specifically the states of Tabasc, Oaxaca, Veracruz, Puebla and Guerrero. One of the goals of this program was to emphasis the importance of preserving our natural habitats and earth's animals that are celebrated through traditional dances: Los Quetzales (Colorful Birds), El Zopilote (The Buzzard), La Iguana (The Iguana), Pajaros Azules (Blue Birds), and El Patito (The Little Duck). This process inspired students to explore the imagery and imagine how these animals would move to the rhythms as they learned the steps to the traditional dances.
Each of the students took part in making their own costumes by creating
a design sketch and applying their color choices depending on the animal they were depicting in the dance. Each of them transferred the idea to material, creating their costume. This was a theatrical approach, allowing students to further explore the animal movements and attributes.
Students learned to breathe deep, and stretch and strengthen their muscles through some Yoga techniques. A few children commented to Maestro Zenon that they liked learning how to stretch and breathe. One student said that he felt like his heart beat better afterwards. Through dance techniques and floor exercises, students learned to follow choreography creating squares, circles and triangles as a group, and how to move within the limits of the stage space. They also learned how to create the intricate percussive rhythms with their feet, which play a large part in the Folkloric dances of Mexico.
Students at both schools (and some of their teachers!) performed their dance at their school-wide Fiestas, where students were able to compare and contrast the stories, styles, and music of each dance performed, and community members enjoyed the colors and sounds of their festive dances!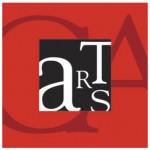 Thank you to the California Arts Council for helping us to provide this wonderful program to our community!!