Starting Monday, August 1, 2011 Youth in Arts' Store will be open for business! Come by Monday through Friday from 11 am—2 pm to purchase Italian Street Painting Festival t-shirts and cards, 'Til Dawn CDs, Mentor Artist original artwork, and more.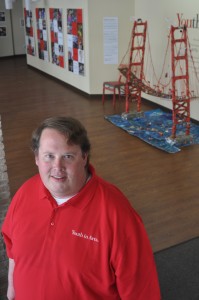 Congratulations to the new Youth in Arts' Store Manager, Erik Peerand!
Twelve years ago Erik met Youth in Arts through volunteering at the Italian Street Painting Festival. He was assigned the job of touting thousands of pounds of water throughout the festival grounds and was quickly dubbed "The Ice Man."
Erik is thrilled to be the Youth in Arts' Store manager. As Erik will tell you when you come in, he's a gleaming example of a successful adult living with autism. Through AmeriCorps Vista and the Special Hope Foundation, four years ago Erik started volunteering in the Youth in Arts office. During that time he has assisted in Special Day classrooms and with professional development trainings for Special Education Teachers at Marin County Office of Education.
VSA Director Nydia Gonzalez says, "As a child, like many special education students Erik was well aware of the low expectations set for him by adults. His message to those adults and teachers working with kids on the autism spectrum is to believe that those kids can achieve a high-functioning independent adult life, working and succeeding in accomplishing their goals."
Click on the coupon to download and print.