Youth in Arts is embarking on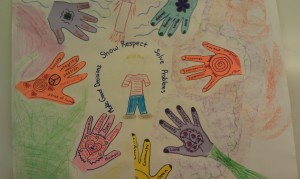 a school-wide Mural Project at Laurel Dell and Short School in San Rafael.  YIA Mentor Artist Angela Baker will be working with students and teachers to create two school murals with the theme of "Our World".  In preparation for this project, teachers came together with YIA Mentor Artists Nydia Gonzalez and Angela Baker to explore the theme of the project and how it can connect with daily classroom curricula.

Working from YIA's "I Am From…" lesson plan, the group of educators explored identity, culture, community and core values, culminating in a group project.  Using tracings of their hands, words, images, symbols and some glue, each group created a visual representation of their values and goals as a community of educators.
Now, it's the kids' turn!  Students will work with their teachers and Angela to conceptualize, design and create their school mural.  We all look forward to seeing their work!
There are no photos with those IDs or post 21897 does not have any attached images!