A Group Exploration of Line, Shape, Pattern
STRETCH / EXPLORE
Mentor Artist Marguerite Etemad began her art year with Willow Creek K-4th graders with a group exploration of line, shape and pattern. We did our exploration in crayons, oil pastels, colored pencils, and markers. Artists explored line and shape with the different materials and compared the results

Children moved to their table groups and worked together, encouraging them to stand if they liked, and explored line shape and pattern.
Matteo – "Look the oil pastels are getting lighter and lighter every time."
Jason – "Look at my sun."
Matteo -"Gosh, look at my blue sun.  It's amazing."
Charlie – "It's not gonna work.  You put water on this."
Johnathan – I'm not going to make an alien.  I'm gonna make some stairs."
Luke – Some plastic could be poisonous.  It's okay if they break. Hey I got black first then you got black first. See?
Ryan – Do you want to make houses?
Dante-Me too.
EXPRESS ~ I asked them to stop, put their materials down and their hands on their heads and look at their work for a minute and asked them what do you see? and what do you wonder? What do you imagine? Does you drawing have a title, or a story? Do you want to put your name on the drawing? Where can you put your name to make it part of the drawing?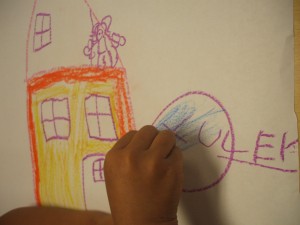 Abby – "I'm gonna draw my name on here."
Zaiden – "He made a rainbow pattern and he made three rainbow fireworks. What's always going in your body when you are quiet?"
Noel – "Your lungs. I like painting houses and making airplanes."
Madeline – "I like to draw houses and like icecreams. (Oil pastels) they are wet like paint. You can erase it with your hands."
Dante – "They're a little like paint."
We let a story emerge and added our names into our work so that our names were part of our art.
"Mine is a little heart with some things. A heart in the night when there's fireworks in July" Ellie
REFLECT ~ Then we took a gallery walk.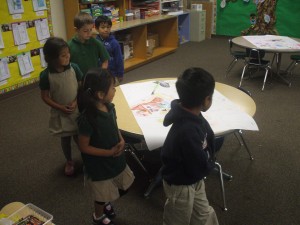 In Ms. Schmidt's class while sharing about this art activity, I asked;
"What did you notice while you were drawing?
How are crayons and oil pastels the same and different?
Here are some of their responses.
"Oil pastels are more oily than crayons." Zachary
"That oil pastels are more dark". Riley
"Oil pastels make a noise when you draw." Magnus
"Only when you go really fast." Riley
"One spread out one didn't." Louise
"The pastels when I was drawing slowly they didn't make even a sound and when I used the crayons they didn't make a sound."  Ithaka
"When I used the crayons they squeaked."  Tarri
"The oil pastels are the coolest thing ever."  Charlotte
"When you put pastels first and crayons then and put more oil pastels they spread."  Addie
First Grade
The first graders when asked these questions responded:
"Oil pastels are different because texture, looks like it has holes."
"Oil pastel brighter, pencil darker than crayon"
"I learned something new, (materials) are different because they have different textures."
"Oil color a lot. Feels like it's a little slippery, looks like its wet."
"Oil darker and smooth"
"Its slippery." (oil pastel)
The first grade artists spent a lot of time talking with each other about how to make their drawing and where to put things.