 Students in the after school LEAP program at Lynwood School are getting a taste for printmaking with Mentor Artist Suzanne Joyal. So far, the second through fifth graders have experimented with building their own unique chop signature marks, monoprinting in black on white paper, and creating colotypes with colorful inks and papers.

In preparation for this week's project of printing on black paper with white ink, students practiced drawing skeletons with oil pastels and chalk pastel pencils. They experimented with lights and darks, contrast and composition. They looked at the works of Jose Posada (Mexico 1851-1913)
The students were so inspired by their drawings that many of them created accordion books and shared their stories with the entire class.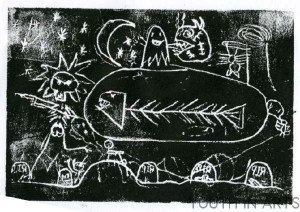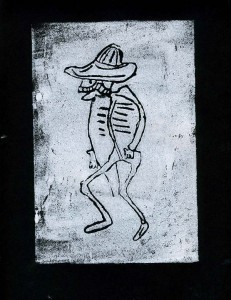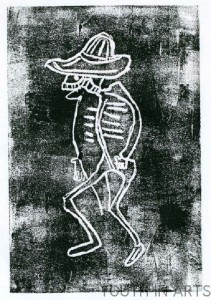 Just in time for Dia de los Muertos: students recreated their skeletons in line drawings which were then turned into etchings in foam and printed two different ways: White paper with black ink, and black paper with white ink.