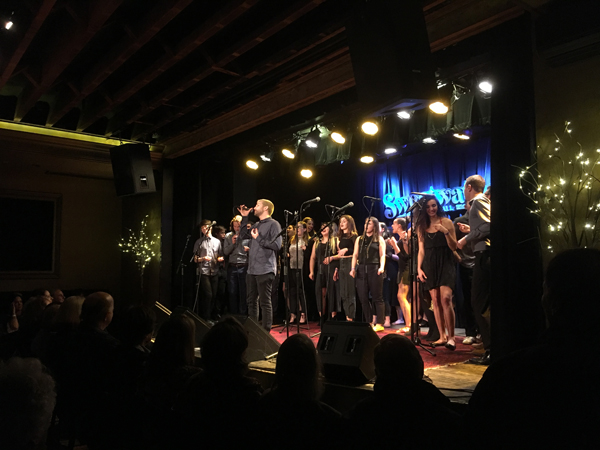 We had another terrific installment of the `Til Dawn SING OUT! our annual alumni concert and fundraiser at the renowned Sweetwater Music Hall in Mill Valley. Nearly 200 audience members enjoyed two great sets from Happnstance, featuring `Til Dawn alums Sean Simerly and Maria Pougiales-Posey with Danielle Bezalel.
We also had great performances from this year's current `Til Dawn ensemble along with "Still Dawn" our chorus of alumni home for the holidays, singing hits from the `Til Dawn repertoire. All 50+ alumni, including Happnstance, donated their performances, helping us to raise $5,700, even more than we did at last year's event! Thank you! Several alums, including Emily Kibbe, James Barton and our current Student Board Member Rose Myers also spoke from the stage about how much the valued the `Til Dawn experience and Austin Willacy's mentorship.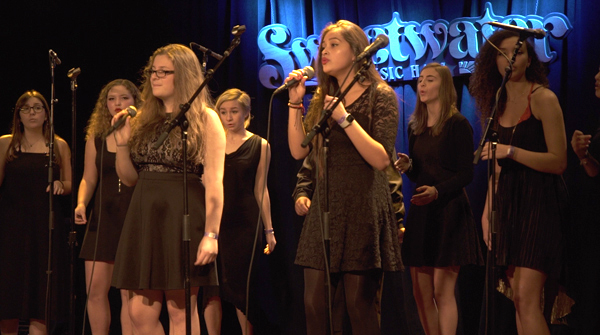 We were also excited that our generous audience helped us "make to to 2018" by donating or pledging $2018 in honor of the new year–thank you so much to all who made this possible!



We would especially like to thank Entelo for their sponsorship and our `Til Dawn Scholarship Campaign Leadership Circle–David and Janine Simerly, Rick and Suzanne Herrero and Linda Sudduth and Buck Smith.
Youth in Arts is able to offer up to 100% scholarship aid to any student who passes the audition process, thanks to generous donors like these.  If you'd like to make a donation to `Til Dawn to support our scholarship fund and our program in general, you can do that here.
Thanks again to all who made it to this year's event–we look forward to seeing you again soon!


Meanwhile, enjoy this video of alum Sean Simerly and `Til Dawn member Will Salaverry singing "Steal My Kisses" with "Still Dawn" (Thanks, Linda Sudduth for the video!) You can find a few more on our Youth in Arts YouTube channel here.